Unequally Yoked
Unequally Yoked
Tuesday, May 22, 2018

By Loretta Cote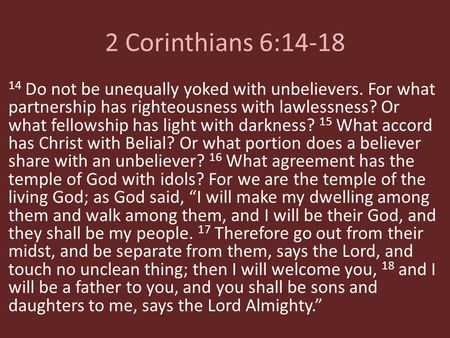 After we ask Jesus into our heart and we serve him, the Holy Spirit will lead us and guide us, as long as we are willing to obey him.
For we have put off (dead to) the ways we used to talk, lived our lives after things in the world, went to worldly places, did worldly things which were not good for us.
When we turned our lives over to Jesus; we are to leave all of those things behind us, because if we don't, it will hinder us and it gives the adversary the chance to pull us back into the world of bad choices, which is not pleasing to God. This also involves our former friends, yes, they too have a choice also to choose Jesus and have a better life. To be forgiven and to receive Jesus as their personal saviour. To be set free from the wrong way of life and to have a new life in Christ Jesus.
Today is the day of salvation.