Who's lifting up our Leaders
Who's lifting up our Leaders
Tuesday, March 27, 2018

By Loretta Cote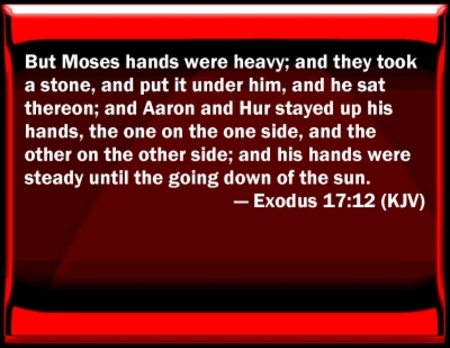 Moses ---Gods' chosen Leader; for the deliverance of his people , Israel.
Under the pressure of the battle against Amalek, Moses became tired from fighting the battle as it was long and hard. Moses never gave up, as God told Moses to raise his hands up and hold them there. As Moses did so, Israel would prevail against Amalek. But when Moses let his hands down, Amalek prevailed.
As Moses' arms grew heavy and tired,God sent reinforcements, Aaron and Hur , to hold up the arms
of Moses. In so doing Amalek was defeated. Moses was the man God chose to lead his people Israel. The same is true today. When God puts his chosen leader in the position he has for him/her, God will protect and deliver them from the enemy. When they become weary under the battle , he will have others stand in the gap to hold them up.
As it is written in Gods' word, slay the Amalek, before he slays you. Slay the enemy with the word of God.